Take the quiz:
"Which type of pie are you?"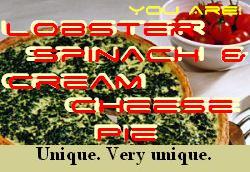 Lobster, Spinach, and Cream Cheese Pie
Oy! You are LOBSTER, SPINACH, AND CREAM CHEESE PIE! My, my, my, are you a uniques one! I don't know anyone in their right mind that has the intellectual potential to order up something so creative and intuitive! Your true potential is hidden in your thirty-three letter name. Get out there and be heard!!!